You want to take your business from "we're doing something online because that's what companies need to do" to "we generate a lot of revenue online"? Sounds like your next logical step is creating a content strategy for SEO. Let me show you how I develop this kind of strategy for my clients as a content SEO consultant.
Content Marketing + SEO = Content Strategy for SEO
Imagine search engine optimization (SEO) and usability (UX) have a baby. This powerful SEO-UX creature combines all the strengths of its two "parents" i.e. attracting prospects on the Internet and then turning them into satisfied customers on your website.
By using a professional SEO content strategy to set up your website, your blog or your newsletter in a way that people will find your company on Google AND your customers will become your brand ambassadors at the same time. As a German SEO content consultant, I can confirm: it can be done. I promise!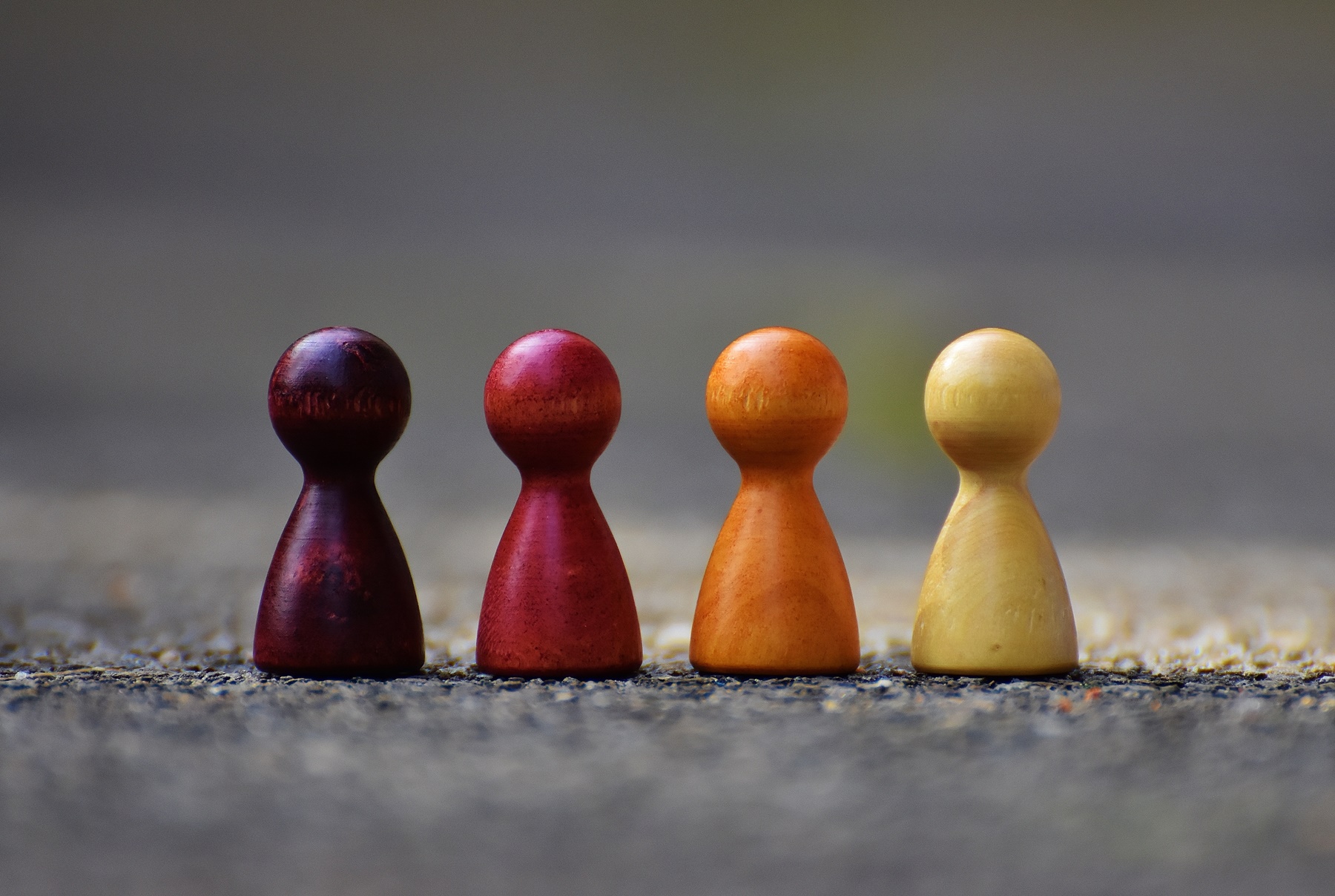 Content SEO Strategy: Create, Implement, Enjoy Your Success
If you develop content for your website or blog in a strategic manner, following Content-SEO and usability criteria, this is what happens:
Act 1: Your website will be found on Google.
Act 2: More and more people visit your website or blog (traffic).
Act 3: Here they will find unique, sensibly structured, up-to-date content that offers them added value.
Act 4: As a result, those people will stay on your website for longer (average time spent).
Act 5: Many visitors will subscribe to your newsletter or share your content on social media.
Act 6: You will extend your company's business scope online as well as offline…
Act 7: … and gain new customers (conversion).
Are you curious now? Very good. Let me show you now, how I go about creating such a content strategy for SEO.
Create a Content SEO Strategy in 5 1/2 Steps ‒ This is How It's Done
You can roughly divide any content marketing strategy for SEO into five phases: analysis, vision & mission, keyword research, strategy development, and action plan. (+ 1/2 because I am a bit of a perfectionist and do not want to leave out the actual content creation part. Even if the implementation itself is not really part of the strategy. You know what I mean?)
1. SEO & Content Analysis (as-is)
During the analysis phase, I take a close look at your website, if you already have one. (If not, we directly proceed to step 2.) In doing so, I determine the current state of your content from a SEO and UX perspective.
For example, which copy, images, videos do you currently use? Is this content already SEO optimized and if so, at which point in time? Do you already have a keyword strategy? If so, has the intended search intent changed since the original SEO strategy was created? Those questions are all part of a classic SEO content analysis.
2. Vision (should-be)
Now that I know the current state, I create a questionnaire. It will help me to better get in touch with you and your business: Where do you see your company's development in the future? What is the main focus? Which topics or products are already doing well online, which do you want to position more prominently? Who is your target group? Together, we will discuss these and other topics ‒ usually in a virtual kickoff workshop.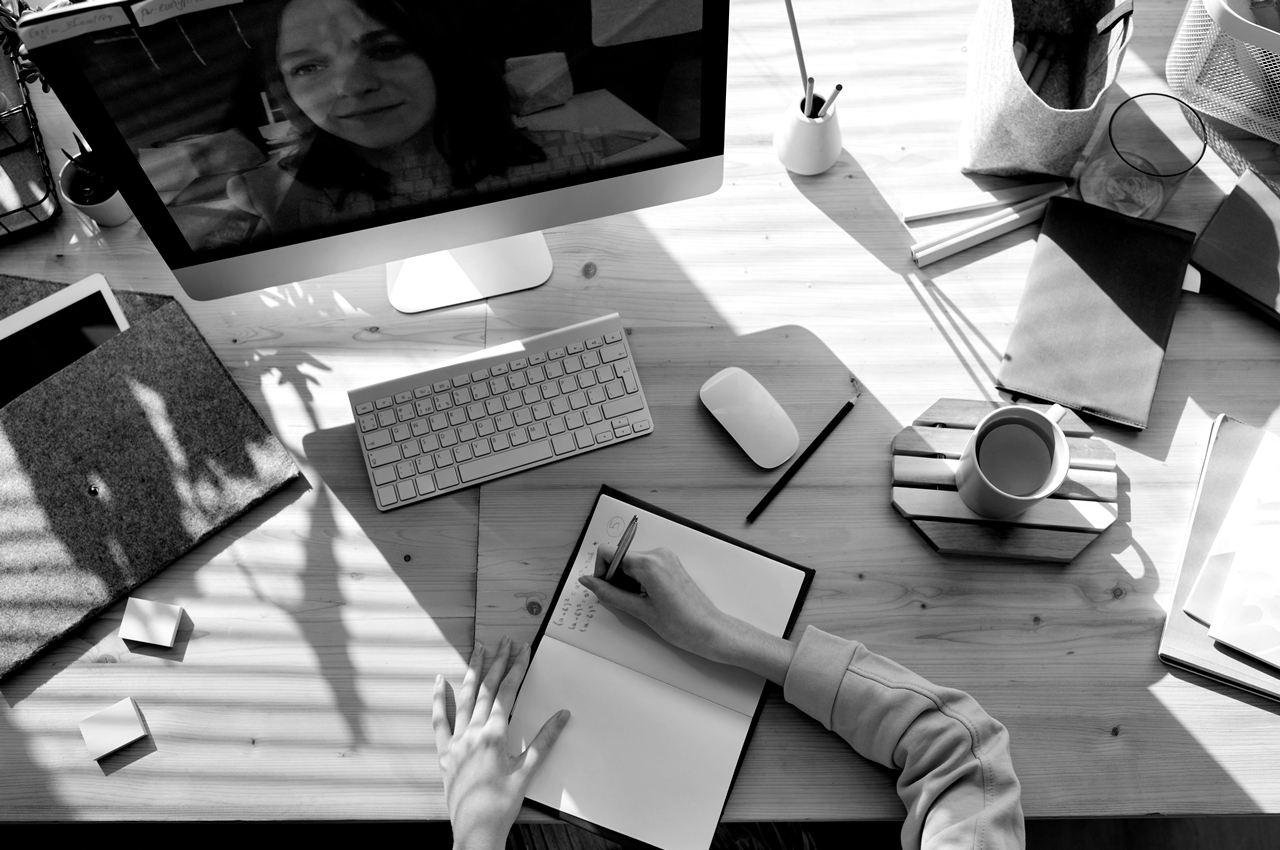 3. Keyword Research
With all this information gathered, I now know what to look for when conducting your keyword research. Depending on your branch, I will first find the 100-150 most relevant keywords for your business. For this, I use common sense and various online tools.

During my keyword research, I take various factors into account: search intent (SIO), search volume and trends, as well as your competitors. Based on these factors, I then develop your individual keyword strategy. For this purpose, I curate synonyms and keywords that cater to the same search intent.
4. Strategy Development
I now "translate" this keyword strategy and use it to develop a SEO content strategy. In it you will find information such as:
Which search terms are generally relevant for your online marketing (content prioritization).
Where should you start and in which order should you create content for which keywords.
For which keywords do you need cornerstone content, and which amount of SEO copy makes sense for other keywords.
Which of these keywords are best suited for which type of content: blog post, landing page, product descriptions, etc.?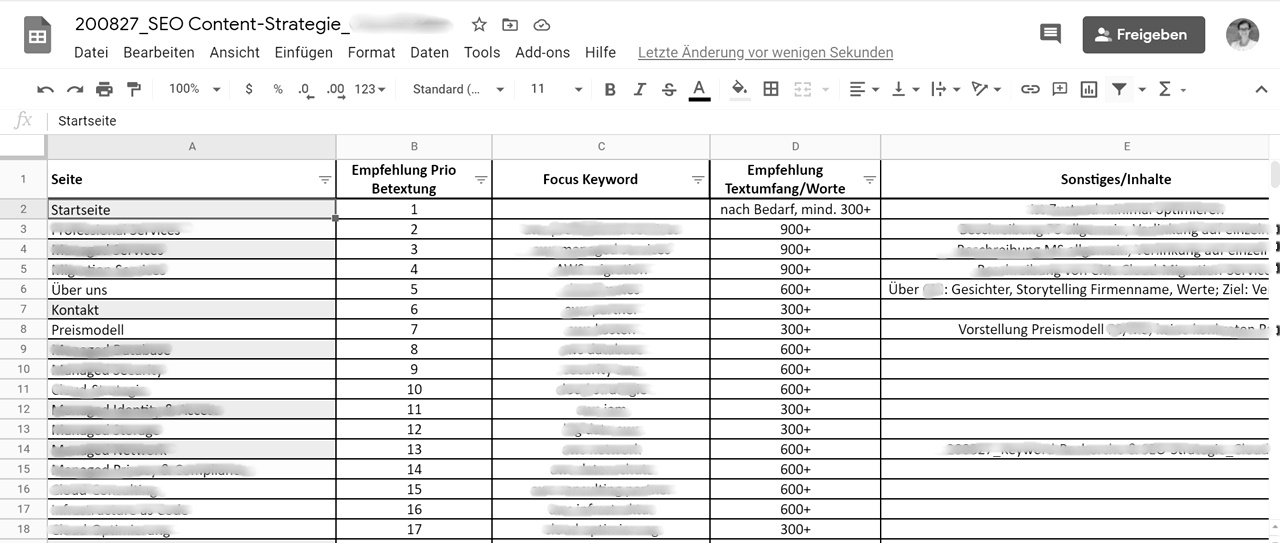 With this content strategy you now have a guideline for onpage SEO at hand. On this basis, you can realize your SEO content strategy in a way that makes your website as relevant for search engines as it is for your customers.
5. Determine Measures
At this point, we usually sit down together and create an action plan based on budget, capacities, and time planning. During this step, we work out processes, define responsibilities, and determine the specific steps for your personal SEO Content Marketing Strategy. Specifically, we ask ourselves questions such as
Who is responsible for which task, when, how, and where? Those span from writing SEO copy to image research, project management, SEO translations, creating a Google MyBusiness account, newsletter, or web design.
Which tasks can you cover internally and which ones should you outsource e.g. to an SEO copywriter?
Which content and topics should be included in the content planning at which point?
What SEO tools do you want to work with?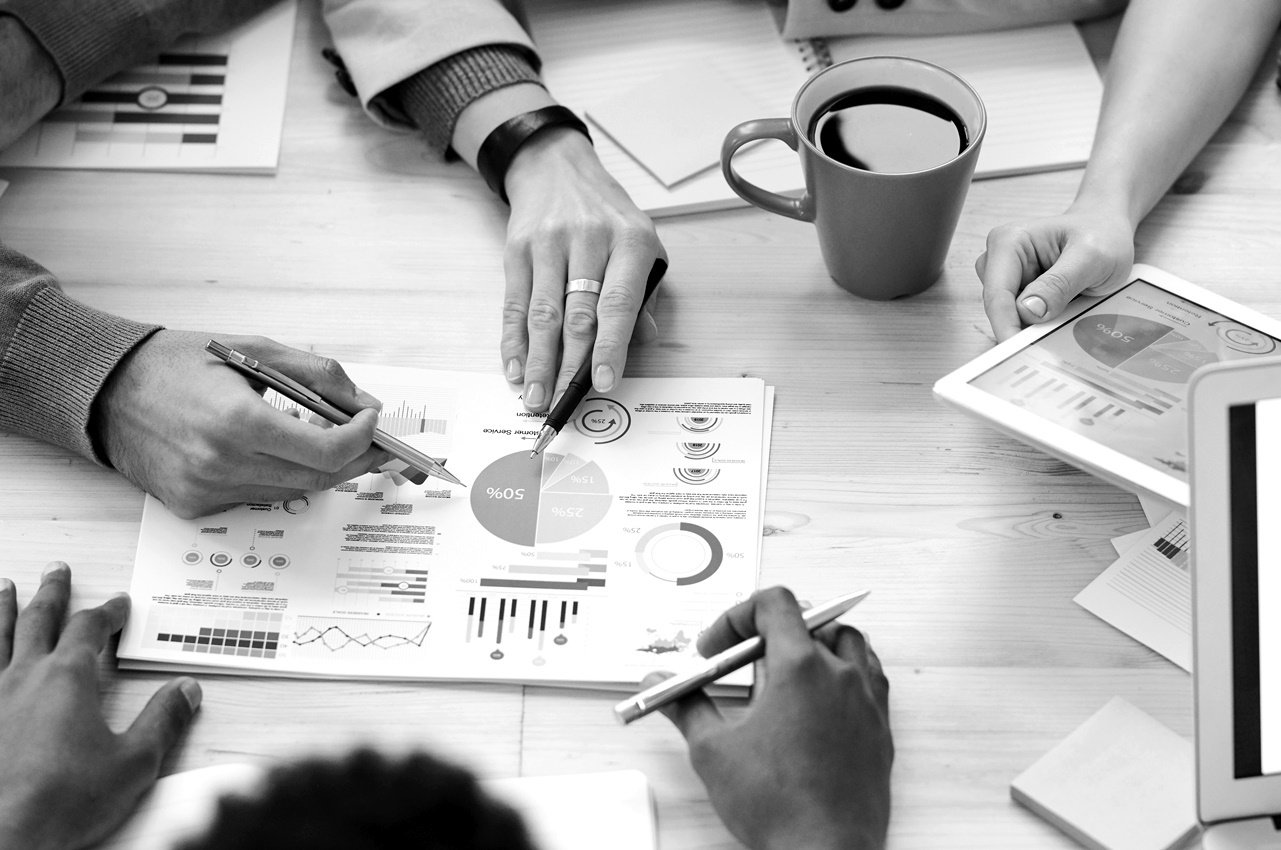 As a format for this last step, most of my clients opt for an (online) workshop where I can sit down with all decision makers and stakeholders.
5 ½. Implementation
Congratulations: Your brand-new content strategy for SEO is now reality! Now it is "simply" a matter of putting your plan into action over the coming weeks and months. To, then, measure its success. And to keep it successfull in the long run.
Creating a SEO Content Strategy: How Can I Support You?
As a consultant, I develop content SEO strategies for businesses day in, day out. This works partly in written form through questionnaires, partly as (online) SEO workshops or through (virtual) live conversations. I can also support you with the implementation, for example by editing, translating, or creating SEO copy.
How Do You Know When You Need a Content Strategy?
You have a blog, but you do not know how to fill it in a way that customers will read it (let alone share it o Social Media)? "Would a newsletter be a good idea?" you have been asking yourself for months now. Maybe your company is about to have a website relaunch, and you need SEO copy or a sensible structure for the new website. Of course, content that you and your colleagues could successfully share on LinkedIn or other relevant social networks would also be useful…
If you caught yourself nodding while reading one or more of these points, it is a fact: creating a content and SEO strategy is the next logical step for you.
Why a Content Strategy for SEO?
Why do you do anything at all in a company? To increase profit, that is why. With a content strategy by a professional SEO consultant, you a) save costs and b) boost your sales.
a) Save Costs
Without a content strategy for SEO, you spend time and money creating content for your blog, website, or social media profile. Unfortunately, no one knows whether this content actually turns prospects into customers. Because there is no quantifiability without a strategy. A considerable percentage of your costs and time goes to waste ‒ while no one can say why and how. However, the situation changes drastically if you approach your content strategically and with SEO in mind.
b) Increase Revenue
When you start following a clever content marketing strategy for SEO, your marketing team will only work with content that meets your customers' needs. No time wasted, no unnecessary extra work. But with measurable results: a higher visibility (impressions), more website visitors, more clicks by, interactions with, and increased sales to your customers.
If you approach your content marketing strategically, it will drive your overall business goals. Instead of being just a part of the marketing mix that exists, your strategic web presence will increasingly contribute to more sales.
Have you made your own experiences with creating a content strategy for SEO? Any tips or questions about creating an SEO content strategy? Tell me. I look forward to your feedback.